The fight for clean air in London
After the death of Ella Adoo-Kissi-Debrah, Choked Up are campaigning for change | By Maxine Harrison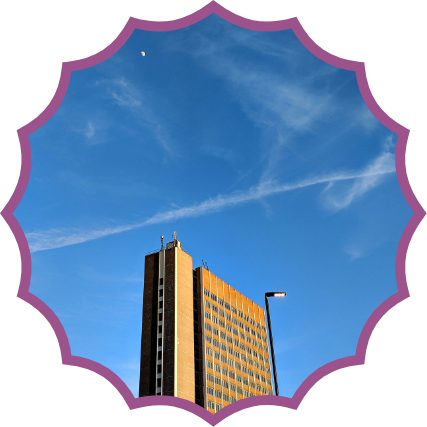 Ella Adoo-Kissi-Debrah was nine years old when she died in 2013. She lived in Catford, in the London borough of Lewisham. Ella had asthma. Southwark Coroner's Court found that air pollution "made a material contribution'' to her death. As the BBC reported at the time, this was "a historic verdict".
Now, eight years later, one of Ella's former classmates, Anjali Raman-Middleton, has co-founded Choked Up. Alongside her are Destiny Boka-Batesa, Kaydine Rogers and Nyeleti Brauer-Maxaei. They are all fighting to honour the legacy of Ella Adoo-Kissi-Debrah by campaigning for cleaner air in their city.
Inequality in the environment
Air pollution in London is not equal, with many of the capital's hotspots for pollution near historically deprived areas. In 2018, Brixton Road passed the annual EU limit for toxic nitrogen dioxide in less than a month.
Co-founder of Choked Up, Destiny Boka-Batesa, says "I do not feel as though the government takes our narrative seriously enough, or at all. We have the innate right to breathe clean air, and the fact that this isn't considered in deprived communities like mine is nothing less than shocking and cruel. I've been exposed to dangerously polluted air all my life, directly affecting my loved one's asthma attacks, leaving me once feeling so helpless and worried, but Choked Up finally gave me the chance to voice those anxieties.''
This shows that the environmental justice movement isn't just white and middle class, but that young Londoners from a diverse range of backgrounds can campaign on the issue too. As Destiny says: "My working-class and black identities intersect wholly into this campaign, as we want the government to enshrine and protect Black and Brown communities in Clean Air Laws''.
‌The right to breathe clean air
Air pollution kills 40,000 people each year in the UK. Poor and black people are disproportionately affected. Crucially, in Ella's case, the coroner noted that there was a failure to give Ella's mother, Rosamund, information about how air pollution could aggravate her asthma, a condition affecting around three children in every classroom. Rosamund spent years fighting for Ella's death to be examined by a second coroner. This successful campaign led to the second coroner concluding that ''air pollution was a significant contributory factor to both the induction and exacerbation of her asthma''.
Change is coming. The British Government has promised to ban new petrol and diesel vehicles by 2030. But Choked Up also want more people to feel comfortable to both cycle and walk around the streets they call home. Making public transport and electric vehicles more affordable to those who need them will be another important step.
Choked Up are campaigning to see the government put the right to breathe clean air into legislation. The group are also working to instil clean air targets that are in line with the World Health Organisation suggestions. Anjali, founder of Choked Up, shares "We are currently networking with other groups and brainstorming ideas. We are planning to do some campaigning for the London mayoral election, as this is the next opportunity to push political action.'"
Since the pandemic, London has made more efforts to make roads more bicycle-friendly. This is a good start, but as Choked Up note, there also needs to be a culture where people feel safe to ride on London roads.
As a black person who was born, grew up and still lives in London, I too am interested in knowing what steps I can take to lower my carbon footprint. Whether it's walking more often for errands, or even connecting Choked Up with civil servants working on the issues of clean air so they can talk further, we can all take steps in our own life to tackle air pollution. Let's honour Ella's legacy by trying to protect our lungs and the lungs of those we love by fighting for a less polluted city.
---
Article written by Maxine Harrison (@remireports)
Lead photo by Jansen Yang on Unsplash