Comedy and the climate crisis
A funny way of reclaiming control over the climate emergency | by Rosalie Minnitt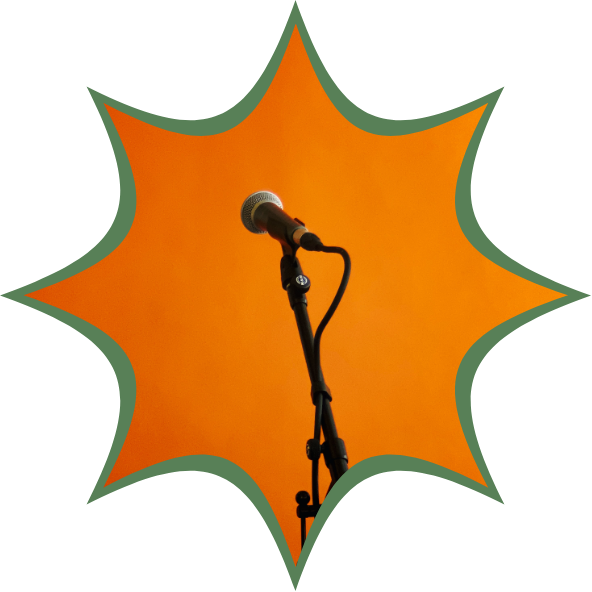 Most climate activists would agree that the biggest challenges facing them are apathy and fear; the scientific facts are too daunting, too vast, too real to swallow, so most people just shut down or breakdown in despair. Neither of these responses are helpful when, to quote Greta Thunberg, your "house is burning down." The climate crisis is no laughing matter, but since time immemorial, comedy has helped us make sense of the impossible and discuss the unspeakable.
Could comedy also serve as a powerful tool in the fight against climate collapse?
Humour against fear
Alison Middleton, a climate activist, stand-up and PhD student at Oxford University, founded Comedy vs Climate Change in 2019 to do just that. Through regular comedy gigs, she wanted to raise awareness of climate issues and empower people to make a change. She explains, "the climate crisis is petrifying, but choosing not to engage with it doesn't make it go away." Ever the optimist, she sees comedy as the perfect antidote. "Humour and fear are basically incompatible," she says."The more you can see the humour in something, the less power it has over you." We feel better about our problems when we feel like we're in control, and for Alison, the climate crisis is no different.
"Eco-anxiety", described by the American Psychiatric Association as a "chronic fear of environmental doom", is on the rise globally - especially amongst young people and children. In 2019, 1,000 clinical UK psychologists signed an open letter to the UK government calling for 'immediate and effective action' as they believe that 'the mental health impact of the climate crisis will be enormous'. Sadly, they're right to be concerned. According to the environmental charity Global Action Plan, 77% of students said 'thinking about climate change makes them nervous.'
"What we need is political accountability and large scale action, but frustratingly the onus to change is usually placed on us as individuals. We're generally all aware that a lot of what we consume is problematic", says Middleton, "so it's difficult to escape that constant feeling of guilt." She adds: "Humour can be radical because it can take the edge off the negative feelings, which frees up the headspace to demand more from those in power."
In the iconic stand-up show Nanette, Hannah Gadsby hits on a similar point when talking about tension. In her view, punchlines, for better or worse, are a form of collective release. In the context of climate inaction, such release is much-needed and hopefully, empowering.  
Turning hope into action
Hetty Hodgson, co-producer and associate director at Pigfoot Theatre—the UK's first carbon-neutral theatre—also believes in the power of comedy.  The award-winning company was founded in response to a report by the City of London that concluded: "the total emissions from London theatres (excluding pre-production and audience travel) are approximately 50,000 tonnes a year. This is roughly equivalent to driving a car 1.5 million times around the M25." Shocked by the statistics, they set out to change the industry from within. Pigfoot's most recent show, How to Save a Rock, is a heartwarming family comedy that follows three friends as they race to rescue the last polar bear on earth. The show is powered by a single bike and everything, from their set to their costumes, is made entirely from recyclable materials.
"Humour can be radical because it can take the edge off the negative feelings" - Alison Middleton
Pigfoot's unconventional activism is designed to inspire, empower, and educate. Hetty says they always start with a single question: "How can we create theatre that helps people rethink their lives but doesn't harm the planet while doing so." And that's where comedy comes in. "When you laugh, you think," says Hetty. She agrees that it's easy to fall into patterns of despair, but that "finding hope in crisis is important because where there is hope, there's a reason to act," Hetty explains. "Laughter gives us that hope."
Their central ethos revolves around connection - to their young audiences, to other theatre-makers and to their performers. Hetty explains, "We want theatre-makers to copy our process! We want people to try and emulate what we're doing so we can create a big community of positivity - of people learning together and turning that anxiety into action." The climate crisis requires collaboration on a vast scale and Pigfoot are busy getting started. They run workshops with local schools and  theatre-makers as well as festivals designed to teach people how to create sustainable art.
New audiences
Hetty says, "we're not getting change from traditional forms of protest", and many would agree with her. Whilst Extinction Rebellion may have succeeded in dominating headlines and getting the climate crisis on the right desks, their tactics aren't for everyone.
However comedy can reach people where mainstream politics fails. As Hetty explains, "'when we invite audiences into a space they want to be in, they're more likely to listen. Their guard is down so it's kind of subconscious... and what's great about comedy is that it's really inclusive and engages with people that might think environmentalism isn't for them."  Activists often fall into the trap of preaching to the converted, so it's possible that these quieter, more unconventional forms of protest may actually make more of an impact.
"Where there is hope, there's a reason to act... Laughter gives us that hope." - Hetty Hodgson
In a TEDx interview, the actress and activist Jane Fonda said, "what a glorious responsibility we have to live in a decade where change is still possible." Hetty and Alison are hoping to make comedy one such transformative tool, one that allows us to engage without becoming overwhelmed, tap into new audiences, and restore some of our sense of hope.
---
Actions:
Check out Pigfoot Theatre and see when they're next performing.
Keep an eye out for Comedy Vs Climate Change's new blog, The Dump - coming soon
---
Article written by Rosalie Minnitt (@RosalieMinnitt)