Saving the fishing cats
On the battle to conserve the web-footed wetland feline | By Tania Banerjee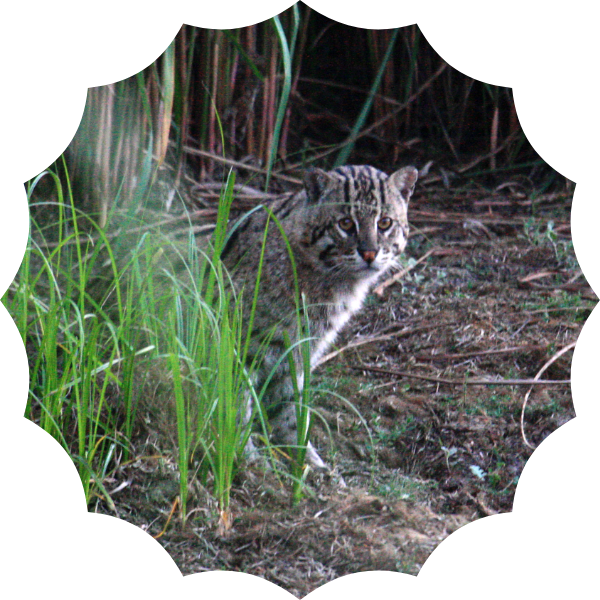 On a chilly night in January 2020, Soumyadip Santra was outdoors. He was following a trail in Bagnan, a block in Howrah district around 55 kilometers southwest of Kolkata in West Bengal. Just before dawn, in a hogla (Typha) bush, Santra came face to face with a baghrol, or fishing cat, for the first time. It was a cub. It was quietly finishing its meal. Just as the Sun lit up the eastern sky, it withdrew into the jungle of reeds.
Fishing cats are nocturnal wetland felids with webbed feet. They look like leopards but are smaller in size. They dwell in the marshes and mangroves of South and Southeast Asia. Even though fish is their favorite, they can hunt a range of other animals like birds, reptiles, crustaceans, mollusks and even mammals like chitals and goats.
"In 2019, through my college Shyampur Sidhheswari Mahavidyalaya's Eco club, I was introduced to the world of fishing cats," said 23-year-old Santra. There are many youths like him working in tandem with conservationist Tiasa Adhya, co-founder of The Fishing Cat Project(TFCP), to protect the fishing cats of West Bengal and Odisha.
In the core tiger area of Sunderban National Park, the largest mangrove forest in the world, the fishing cats are probably the safest. Here, with no urbanisation and very little human habitation, the wilderness is kept intact. However, there are many places in West Bengal where the cats live in close proximity to humans. It is here that an intervention is required to protect the species.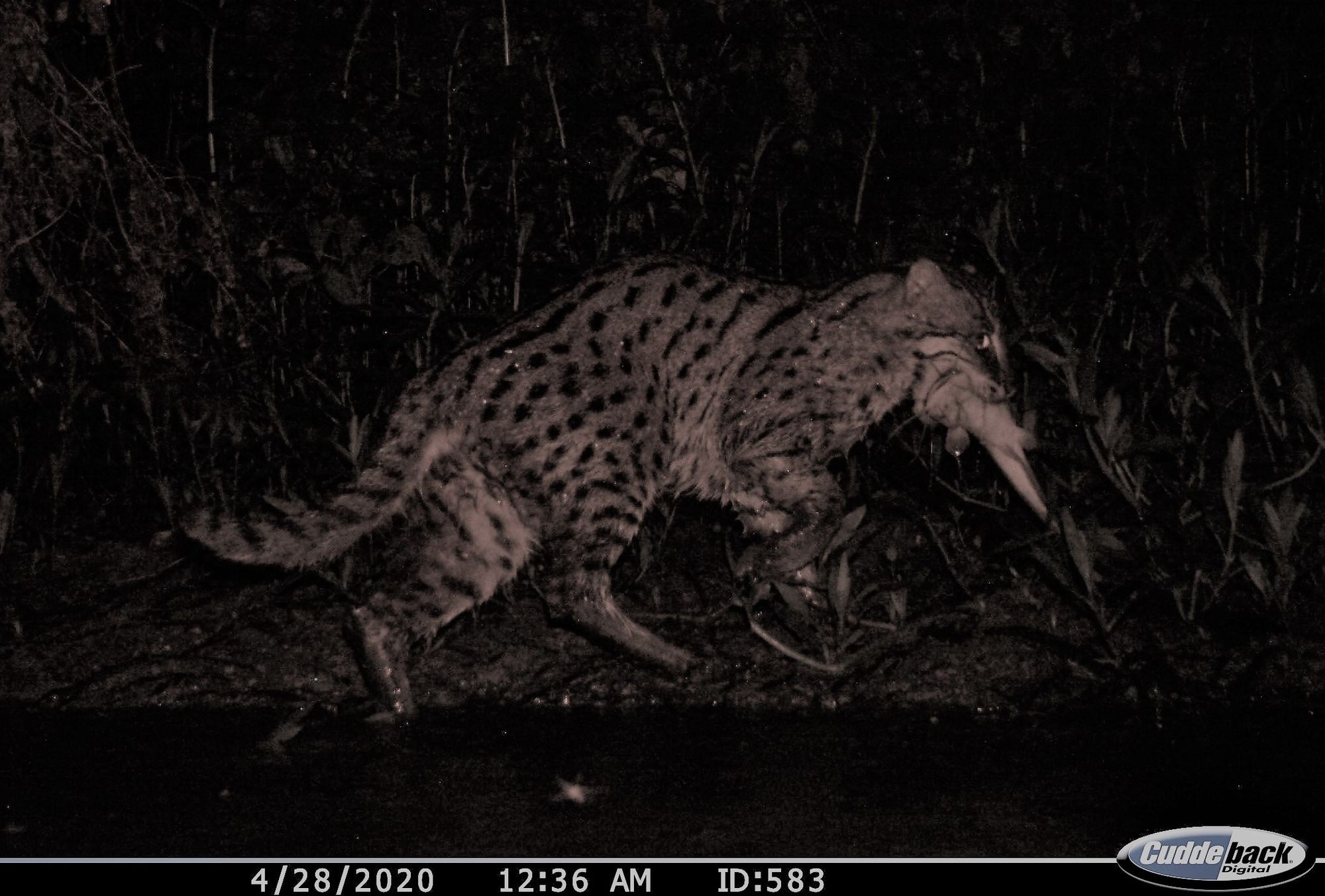 The major looming threats
Fishing cats are marked as vulnerable on the IUCN Redlist (International Union for Conservation of Nature). In Howrah district, there are two primary threats to these wild cats—habitat destruction and human-animal conflict.
The wetlands of Howrah are being destroyed to develop aquaculture ponds and real estate properties. "Wetland vegetation supports fish, insects, mollusks and a variety of other aquatic fauna. Aquaculture ponds replace the rich wetland ecosystem with a homogenous culture of a few fish species," said Tiasa Adhya. According to her, the owners of these ponds add chemicals to trigger growth in the fish and then release the untreated water into the wetland, contaminating the fishing cats' natural habitat.
The land is also on the radar of hawk-eyed developers. Builders follow the Wasteland Atlas of India, a document that guides construction. According to Adhya "the marshlands are designated in this document as wastelands". Real estate development comes at the cost of the marshes.
As the food reserves of the cat decline and the habitats get patchier, they are forced to scavenge in the aquaculture ponds. The aquaculturists often end up poisoning, ensnaring and beating these cats to death. "If we have intact wetland ecosystem instead of intensive aquaculture farms, it would provide for both fishing cats and human communities thereby reducing chances of conflict," said Adhya.
Ritualistic hunters also poach fishing cats along with other animals even though hunting is illegal in India. Up until 2011, they sold the meat in village markets at INR 65 per kilogram. Adhya who is also the Joint Secretary of HEAL (Human and Environment Alliance League), an NGO that works for stricter enforcement of hunting ban, says, "the hunters will kill anything that they can lay their hands upon including the fishing cats."
An awareness model
Since fishing cats are elusive, nocturnal creatures, many people are unaware of their existence. Sometimes they are simply killed out of fear. Adhya and her team run awareness campaigns in villages around fishing cat zones. They collaborate with schools and colleges to establish a pool of young, aware villagers who are expected to propagate the education among locals in their respective villages.
"We have received projectors and laptops from our college," said Santra. They use these to prepare awareness presentations in schools and village fairs. It helps that West Bengal had declared fishing cats as the state animal in 2012.
As a villager working for the welfare of fishing cats, Santra describes his struggles. "Behind my house, a family of fishing cats dwell in a small hogla bush by the shore of the Rupnarayan river. Picnickers on the river coast blare loud music all day." Conservationists are unable to stop this nuisance as it is supported by local politicians.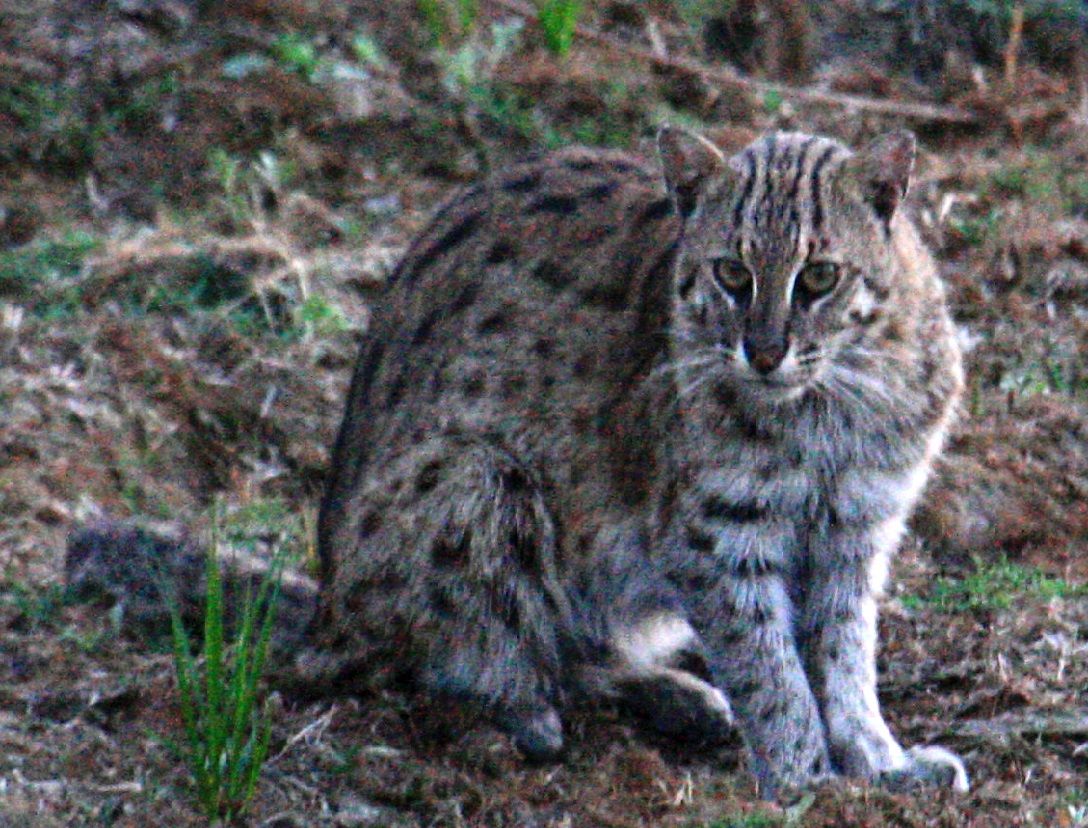 Interestingly, Raju Sarkar, the current Divisional Forest Officer of Howrah, administers a Whatsapp group with all local members of NGOs to make information sharing easy in real-time. "If the volunteers receive some information, they just post it to the group. We take immediate action." Road-kills are a recurring disaster that get shared in the group.
The volunteers have identified vulnerable stretches and the plan is to put up road-signs. But they fear this is not enough and the menace can only be controlled by installing speed-breakers. "Speed breakers cannot be constructed on national highways but only on small patches of road passing through villages," said Sarkar.
The forest department has come up with an open enclosure rescue and conservation breeding center for fishing cats at Garchumuk. "The fishing cats have been prioritised for conservation breeding so that the wild population can be supplemented," said Sarkar. Adhya hopes allowing visitors here would increase awareness and decrease fear of the fishing cats.
While Adhya conducts the very first fishing cat census outside of protected areas in Odisha's Chilika (the largest brackish water lagoon of Asia), her campaign promoting harmonious co-existence of humans and fishing cats in West Bengal has seen a good deal of success. Some people now forge personal relationships with the cats by naming them and the children of the villages are well aware of the importance of preserving these animals.  
---
Article written by Tania Banerjee (@azureskyfollows)
Lead photo by Partha Dey, The Fishing Cat Project
Please consider supporting our journalism: https://www.paypal.com/donate?hosted_button_id=FFQ2VNZ6Z6BYG