Planting trees can create plastic waste. One teenager is changing that.
How a young girl's invention can help India reduce its plastic burden | By Kanchan Srivastava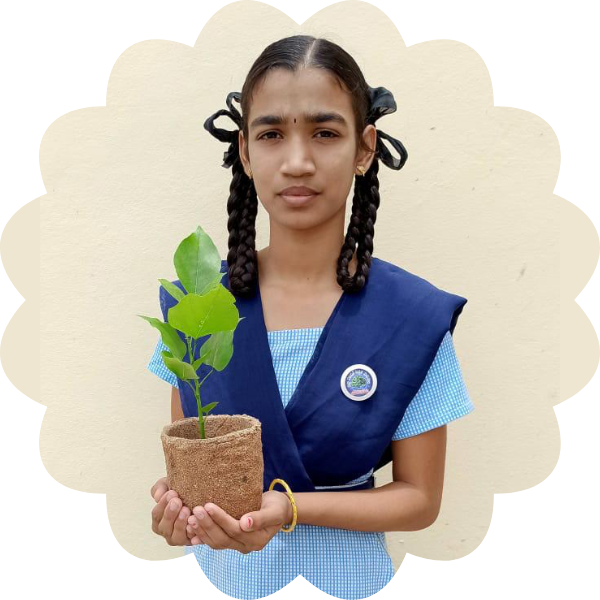 When Swedish student Greta Thunberg spoke out against climate inaction in 2018, it awakened youths across the world to join the cause and fight against global warming.
Many Indian youths took part in the movement by rejecting single-use plastics, and cleaning up lakes, forests and hills as well as raising awareness about global warming.
While climate activism appears centred around big cities, a teenage girl in a southern Indian village is making a mark of her own.
Srija, a class 9 student of a government-run school in Chintalkunta village of Gadwal district in Telangana State, has created a low-cost innovation: a biodegradable pot in which to grow saplings. This pot replaces the black plastic bags that are traditionally used in tree nurseries across India.
Srija (14), along with her classmate Hari Krishna (14), recently won the "Council of Scientific and Industrial Research (CSIR) Innovation award for 2020" given by the Ministry of Science and Technology, under the category of innovation by school students. Her sustainable solution could eliminate the use of plastic from plantation drives all around the country.
Bringing the innovation to others
Srija has made a few hundreds pots or planters over the past year. These are already being used in plantation drives of her own school and nearby areas. She seeks to scale up the production so that nurseries across Telangana and further away can also move away from plastic bags.
T Works, a Hyderabad-based organisation that wants to create a "culture of hobbyists, makers, and innovators in India" has come forward to evaluate her idea for large scale production. They have designed a prototype of a machine that could speed up the work.
"I have been making five to six planters every day by hand. But, with the machinery, I can increase production capacity and make 10,000 planters by July 2021," said Srija.
The State forest department is also studying the feasibility of Srija's product for adoption in their nurseries. Mohan Chandra Pargaein, the Indian forest service officer and Additional Chief Conservator of Forests in Telangana state said, "we will start our pilot project once the proposed manufacturing unit is ready for large scale production."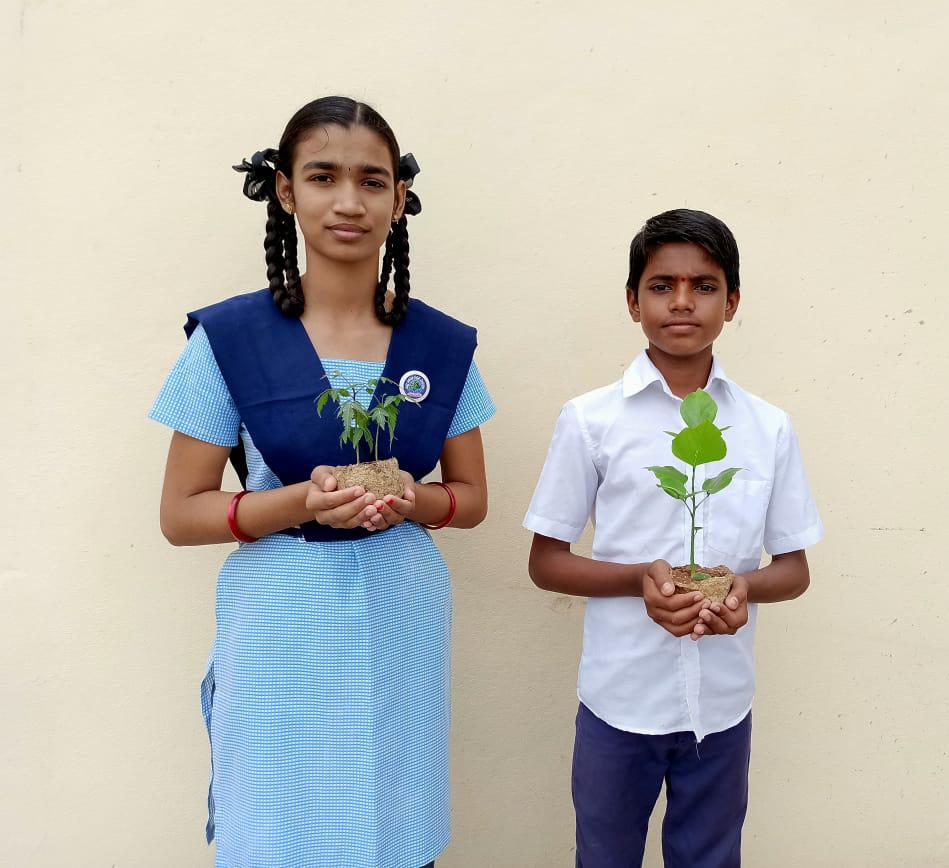 The spark of the idea
Describing how she originally got the idea, Srija says, "In March 2020, I was digging the soil in my school playground to plant a sapling. After having dug a few feet, I spotted a few black plastic bags buried in the soil. This was from the previous plantation drives in the school."
Her school often organises plantation drives on major occasions including students' birthdays.
Ironically, plantation drives that aim to increase the green cover inadvertently add to the plastic burden of the country. India already creates 3.3 million metric tonnes  of plastic waste each year, as per the Central Pollution Control Board's 2018-19 report.
But many believe this figure to be an underestimation. Indeed, a 2020 study by Science Advances claims India is the second biggest plastic polluter globally after the US which estimated India's plastic waste generation at 26.3 million metric tonnes in 2016.
Much of this is never recycled and ends up choking land, drains, rivers and seas leading to contamination of water, soil and air.
"I did not want to follow the same practice so I started thinking of a sustainable solution to raise seedlings," Srija explains.
Several states conduct massive plantation drives by sowing 50 to 250 million plants every year. In turn, these leave behind millions of plastic bags.  
Why plastics are bad
Despite the multiple benefits that the material offers, plastics are associated with high levels of waste, inadequate end-of-life treatment, low recyclability rates and a high potential of disintegrating into microplastics.
Millions of animals are killed across the globe by consuming plastic and microplastics every year, from cattle to birds to marine organisms. Studies say plastics can cause cell damage and even disrupt the reproductive systems of some species.
The presence of plastics in the environment represents one of the most challenging human-caused threats to biodiversity.
Serval states in India have banned single-use plastics, which represent more than 40 per cent of total plastic waste, but the implementation of the ban has not been up to the mark. The federal government has pledged to phase out single-use plastics by 2022.
How she did it
Groundnut cultivation is prevalent in the area where Srija lives. While nuts are sold in various forms, the shells are used as an energy source or made into a pulp and used as manure.
"I thought it would be far easier and cheaper to experiment with the shell pulp than anything else," says Srija.
She procured shells from a nearby mill, added water and ground them at home to create the pulp. She then moulded this onto a water bottle to form the shape of a cup.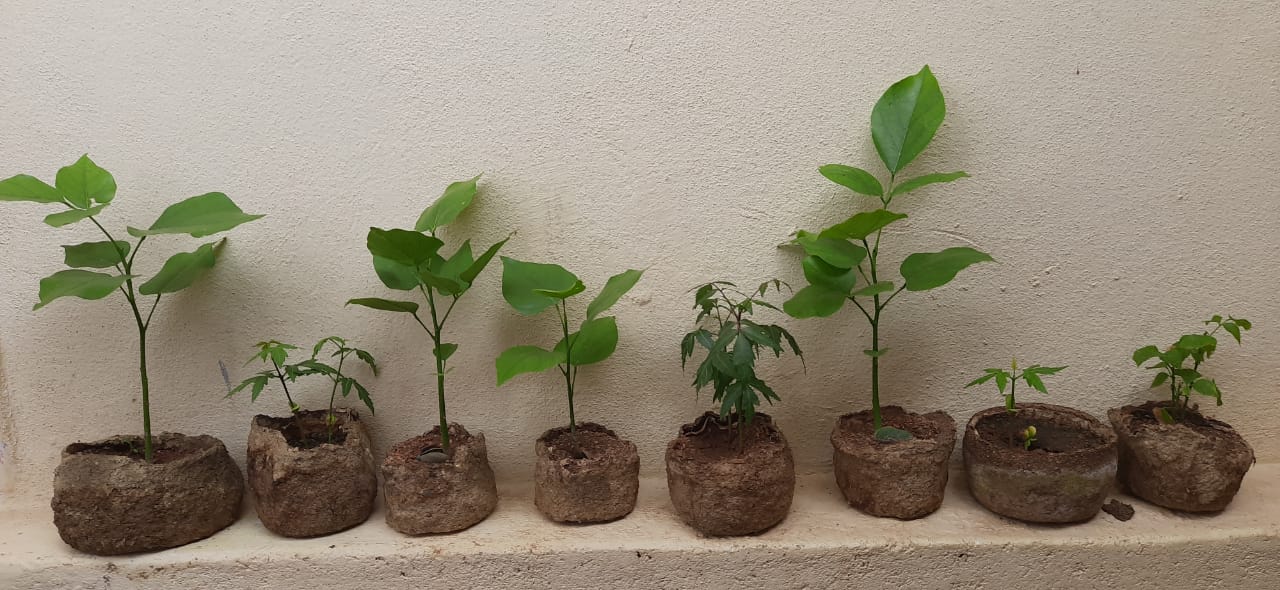 Her first attempt was unsuccessful as the planter was too fragile. Her mentor and maths teacher Augustine suggested a few more natural ingredients to make the planter more resilient.
"When the planter was sturdy enough, we added some soil and planted a neem sapling into it. We buried it at school ground and monitored it regularly to determine how long it would take to disintegrate," says Augustine.
After a few months of trial and error, Srija managed to create durable pots which can be planted along with the saplings, decompose into the soil after 20 days and cost just Rs2 ($0.27) each.
"When plastic pouches arrived in India a few years ago, nursery owners had hailed them as "big innovation". After all, these pouches were convenient, durable, and cheaper than the earthen pots (... ) but plantation programs gradually become a source of plastic pollution. [I'm] glad that a youngster has come up with a solution we all were looking for so long," says Vikrant Tongad, an environmental activist based in New Delhi.
He adds that the Union Ministry of Environment, Forest and Climate Change has issued a directive a few years ago to curb the use of plastics in nurseries but it was never implemented due to the lack of any viable alternative.
Zoru Bathena, a Mumbai-based environmental activist, echoes Tongad's views. "Any innovation which reduces the plastic burden is welcome. India must offer subsidies to nurseries for the adoption of eco-friendly solutions like the one [developed] by Srija."
---
Article written by Kanchan Srivastava (@Ms_Aflatoon)
Please consider supporting our journalism: https://www.paypal.com/donate?hosted_button_id=FFQ2VNZ6Z6BYG