We need to think about recycling face masks
On biodegradable solutions to the pandemic's environmental cost | By Priyanka Mogul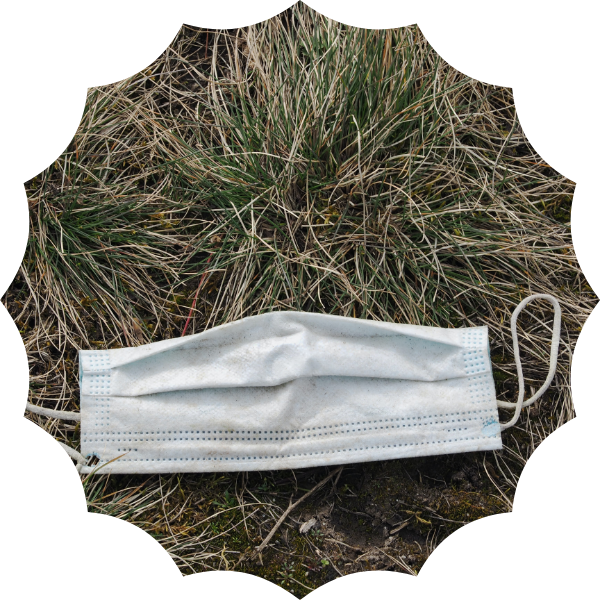 In 2020, masks joined phones, wallets and keys on the checklist of crucial items to carry with you when you leave the house. The World Health Organization wrote, in bold, on their website that we should "make wearing masks a normal part of being around other people".
But what impact do these single-use masks have on our environment? Researchers have already warned that the pandemic presents a growing "plastic pollution crisis". In the UK, 53 million face masks are being sent to landfills every day. Many are finding their way into our streams, rivers and oceans. For the first time ever, the Marine Conservation Society found items of PPE on the beaches they clean, while masks and gloves were found in almost 70% of inland litter cleanups.
Globally, we throw away approximately 3.4 billion single-use face masks or face shields every day as a result of the COVID-19 pandemic. Meanwhile, the amount of waste generated worldwide since the outbreak is estimated to be a staggering 1.6 million tonnes per day.
In May 2021, researchers at Swansea University discovered that disposable face masks release nano plastics and other harmful pollutants when exposed to water, which has a substantial impact on the environment.
"Improper and unregulated disposal of these [masks] is a plastic pollution problem we are already facing and will only continue to intensify," said Project lead Dr Sarper Sarp of Swansea University College of Engineering. "We urgently need more research and regulation on mask production, so we can reduce any risks to the environment and human health."
Fortunately, several small businesses across the globe have already begun offering eco-friendly alternatives to disposable masks.
A mask full of flower seeds
"Back in October 2020, I thought it would be nice to have biodegradable masks containing flower seeds, which sprout when they are disposed of," said Marianne de Groot-Pons, a graphic designer based in the Netherlands. In January 2021, as Utrecht imposed a curfew to tackle the spread of COVID-19, Groot-Pons and her husband sat down at their kitchen table and began handcrafting 200 biodegradable masks per day. By February, they had put together a website to sell these masks to their friends, family and acquaintances.
The masks are made out of two layers of rice paper, which contain the seeds between them, while the straps are made from Dutch sheep wool. Even the ink used on the masks is biodegradable and when disposed of, the entire mask will usually be gone in a week, with sprouts appearing within a couple of days. Today, Marie Bee Bloom sells masks across Europe and the UK, with hopes of expanding into other regions.
"I never dreamed we would get this attention from all over the world," said Groot-Pons. "For me, the masks are part of a larger story about the need to take care of nature more than we currently do. There are a lot of products that need creative alternatives."
The increasing demand for eco-friendly masks was also acknowledged by the family-run business The Jolly Turtle, which help consumers and companies eliminate single-use plastic. Before the pandemic, they created plastic-free kits for the travel, hospitality, events and lifestyle sectors. When the pandemic hit, The Jolly Turtle decided to use their expertise to fill a much-needed gap in the market.
"Single-use face masks and hand sanitizers were suddenly everywhere," said Jodie Boyd, Founder and CEO of The Jolly Turtle. "We wanted to get in there early and do something about the plastic pollution that was being created by these products."
The role of greenwashing
The Jolly Turtle stocks both reusable and biodegradable face masks. Although both are made from organic cotton, which Boyd referred to as the "best material in terms of eco-friendliness", the biodegradable masks use natural rubber for the elastic bands, making them fully biodegradable and not only reusable.
"We're very careful about using the correct terminology so consumers know how to dispose of them correctly," said Boyd.
Using the right wording and being truly transparent is increasingly important for sustainable brands. This was something stressed by The Pure Option, which produces compostable masks made from paper and corn. They warned against greenwashing tactics used by some companies that aren't always open about the materials they use.
"Greenwashing is a huge problem in the UK," said Charlie Richardson, Managing Director at The Pure Option. "The term 'biodegradable' in the UK has no proper definition; it simply means it takes less than 10,000 years to break down and some biodegradable products may even release harmful emissions when they decompose. If a consumer is looking to make the right choice, they need to look for products that are compostable, not biodegradable."
Although The Pure Option's masks are compostable, the company urges people to dispose of them due to health contamination issues associated with Covid-19. However, Richardson emphasised that even if their masks end up in a landfill or waste facility, they will break down in under 13 weeks without releasing any toxic byproducts.
"Disposable face masks are the modern plastic bottle; they are a huge environmental disaster waiting to happen," said Richardson.
Handing the power back to consumers
As well as ensuring transparency throughout their supply chain, The Jolly Turtle also wants to make eco-friendly alternatives accessible to consumers. While it costs more to buy one of their masks than a disposable one, Boyd urged people to consider how many disposable masks they would need to use over a two-week period and the costs associated with that.
"It's really about getting people to understand the economics behind long-term usage of these products," she said. "It's going to be cheaper for them, and they also look better, are more comfortable, and are better quality!"
From a business perspective, Richardson acknowledged that products made with petroleum-based plastic would save The Pure Option 23% of the cost. However, he urged consumers to recognise the power they have to convince business to choose the more eco-friendly options.
"Consumers have all the power, they just don't realise it," said Richardson. "If consumers tell businesses they don't want something unless it's made from plant-based materials, businesses would have to change whether they want to or not."
---
Article written by Priyanka Mogul (@priyankamogul)
Photo by Wolfgang Fürstenhöfer on Unsplash