Solar-powered artificial reefs
In the Indian Ocean, a charity is constructing coral reefs by hand | by Geetanjali Krishna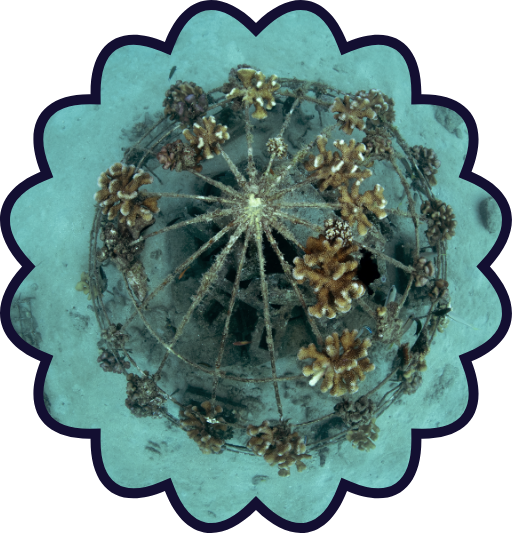 A fisherman dives off a boat into the azure waters of the Andamans. He's headed not for the blooming coral reefs that attract leisure divers to this picture-postcard Indian Ocean archipelago, but for an odd-looking structure next to it. Onto it, he places handfuls of coral fragments. Sturgeon, parrot fish and stingrays swim around him.
Work done, he bobs to the surface, leaving behind a newly blooming watery world.
Left to its own devices, coral grows at an agonisingly slow 0.5 cm per year. And that's a problem, as rising ocean temperatures and acidity are threatening coral reefs across the globe. A series of mass bleachings (the process by which corals will expel the algae living in their tissues due to stress, putting them at heightened risk of mortality) have seen 50 percent of the world's reefs bleached in the past 30 years. These mass bleaching events are a crisis for other marine fauna too, with 25 percent of all marine species being found in and around coral reefs; a biodiversity that rivals that found in rainforests.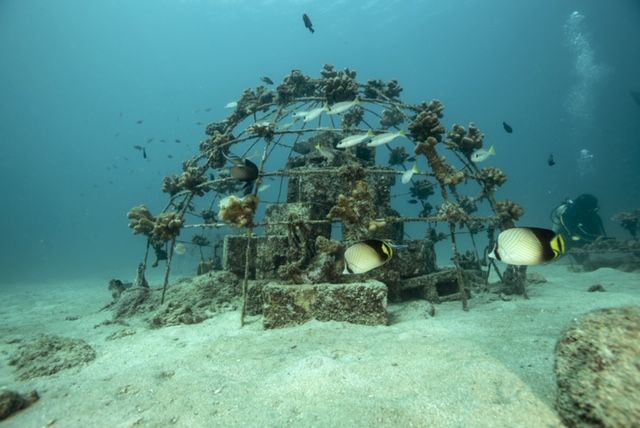 Solar-powered artificial reefs might be the novel answer to this marine conservation crisis.
ReefWatch, a tiny environmental charity passionate about the conservation of the magnificent coral atolls in India's Andaman and Nicobar Islands, has positioned nine of these artificial reefs near the archipelago's natural coral formations. The reefs are connected to a small floating solar panel that constantly delivers a small electrical charge. This speeds up the accretion of minerals dissolved in seawater, which form a thick layer of substrate. On this limestone-like bed, coral grow seven to twelve times faster than usual as they need not expend energy building their own calcium carbonate skeletons.
"We train local divers, mostly fishermen, to collect naturally broken fragments of coral and implant them on to our undersea metal frames," says Nayantara Jain, executive director of ReefWatch. At the same time, she and her team manually create diverse undersea habitats using rocks, shells and aquatic plants. "We see an immediate uptick in marine life when the artificial reef is set up," she says. "In time, hopefully it will fuse and bulwark the natural reef."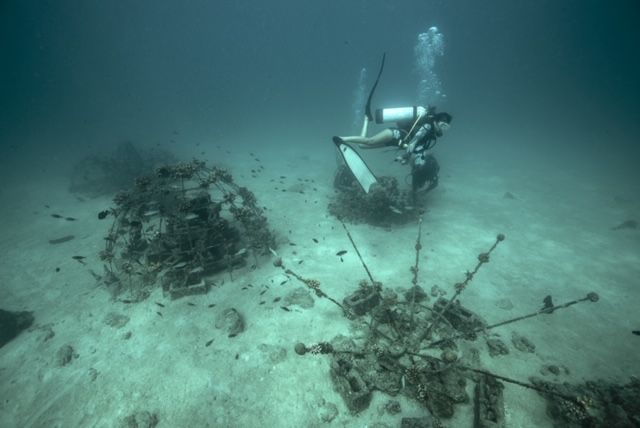 The science of solar-charged reefs
In 1974 Wolf Hilbertz at the School of Architecture at the University of Texas discovered that when a small electric current is passed between metal electrodes placed in seawater, dissolved minerals come together to form  a thick layer of limestone similar to the substrate on which corals thrive. He called this substrate 'Biorock' and built the first experimental artificial reefs using this method with marine biologist Thomas J. Goreau.
Biorock structures, in fact, were shown to have multiple benefits, causing not only hard coral, but other forms of marine life such as tunicates, bivalves, sponges and soft corals to develop at faster speeds. "We've also found that the electric current leaves the coral with an energy budget that helps it survive warmer temperature and coral disease," says Jain, on her organisation's use of the process in the field. Research on Biorock reefs suggests that the marine life they support is also made more resilient. Biorock-supported reefs in Indonesia survived bleaching events in 2016 and 2020, while coral on nearby natural reefs did not. The ReefWatch team have developed a new-generation solar panel design which they hope will make the growth of coral even more efficient.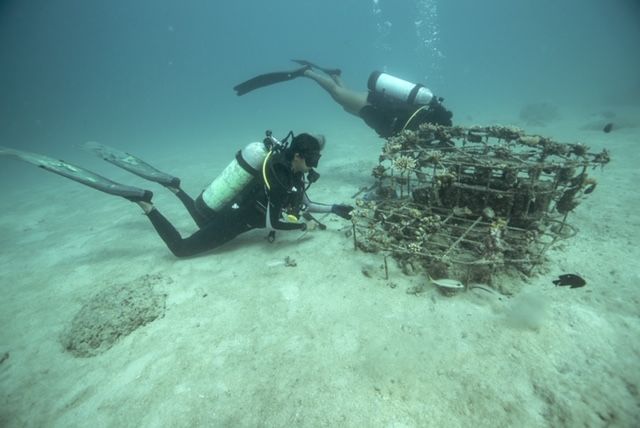 A community model
To preserve reefs for future generations, ReefWatch also conducts workshops to raise awareness in the local community about how coral reefs protect the fragile local ecology and protect these islands against the tsunamis and high tides—that are an increasing feature due to global warming—as well as making an argument for the economic boons of healthy reefs.
"We want to entice divers and beach enthusiasts to build more reefs with us on these picturesque islands, which have beaches which feature in the list of Asia's ten best," says Jain, an enthusiastic diver herself. "This could bring in tourism revenues and give the locals a higher stake in preserving their beautiful beaches and reefs."
The world wakes up to coral conservation
The small grassroots charity has its work cut out maintaining the nine solar-powered reefs they have built so far. "Every new reef will need at least five years of regular maintenance—implanting more coral and tending to older specimens," Jain says. But a growing public appreciation of these vital underwater ecosystems is helping their cause. On World Oceans Day in June 2020, the charity launched Adopt A Reef, a programme through which people could sponsor part of an artificial reef for just US $470 per year. Within six weeks, Jain says, all their existing reefs were fully funded. "Our project resonated with a lot of people. Perhaps because it shows the possibility of undoing, at least partially, humanity's negative impact on the planet…"
---
Article written by Geetanjali Krishna (@GeetanjaliKris1) on behalf of The India Story Agency
All images provided courtesy of Sumer Verma (@luminousdeep)