Switching on community power
How can we make our energy system more democratic? | By Olivia Oldham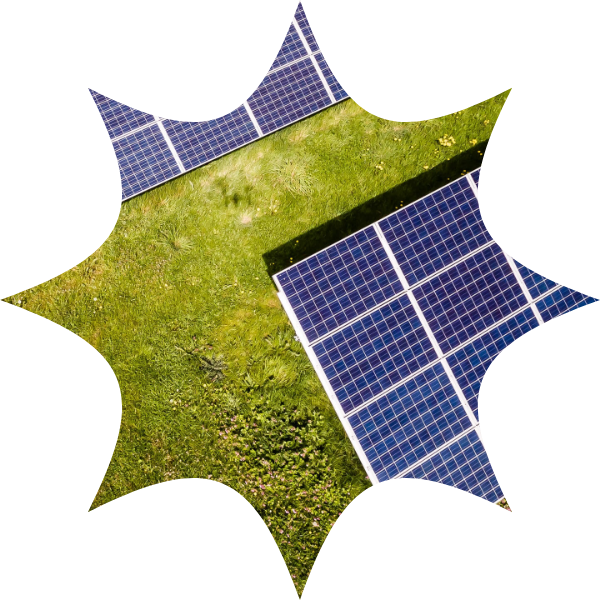 In September this year, construction is due to finish on Ray Valley Solar (RVS), which, once completed, will be the largest community solar energy installation in the UK. Near Bicester in Oxfordshire, the solar farm is projected to generate enough renewable electricity to power 6,000 homes, replacing 4,200 tonnes of CO2 emissions each year—the equivalent of someone flying 4,200 times back and forth between Paris and New York each year.
RVS will join a growing number of community energy projects across the country. In 2019, these produced enough electricity to power nearly 75,000 homes, as well as providing heat energy, storing electricity, and investing in low carbon transport and energy efficiency.
Putting people at the heart
But what exactly is community energy? Basically, it's about recognising that the energy system is "more than wires and switches—it's also the people who interact with it," as Saskya Huggins, Social Impact Director at the Oxford Low Carbon Hub puts it.
It puts "people at the heart of the energy system" by involving them variously in decision-making, ownership and benefit-sharing; for example, RVS is owned by the Oxford Low Carbon Hub IPS Ltd, whose members are the community investors funding the project.
This approach to energy is attractive to people like Oxfordshire county councillor and RVS owner-investor, Damian Heywood, who sees it as a way of contributing to the common good, as well as being a sound financial investment.
"It's a no-brainer," he says.
Community energy encourages and enables "collective action at a time where climate change can seem daunting and overwhelming," says Éva Goudouneix, Community Development Manager at Repowering, a London community energy non-profit. By creating a space for people at the grassroots to come together to take meaningful action on climate, community energy can bypass the inertia of large, traditional energy companies. Although community energy is not inherently environmentally sustainable (there are coal co-operatives in the United States!), renewable energy lends itself well to community ownership, and most community energy projects in the UK are renewable.
The economic benefits of community energy are also significant—in 2019, this kind of project created £4.6 million in economic benefits for local communities across England, Wales & Northern Ireland.
Making energy more democratic
Beyond its tangible benefits, community energy can lead to fairer energy governance by redistributing the concentrated power of traditional energy systems, giving rise to a growing international movement for energy democracy. Energy democracy is said not only to be able to help solve the climate crisis but also to address some of the deep inequalities which are tangled up with the top-down, fossil-fuel-based energy system.
Unfortunately, the journey to energy democracy is not all smooth sailing. Despite the idealism of the movement, some people question how well it works in practice. In particular, they say the assumption that community energy is inherently democratic is flawed, with researchers finding that those who participate in community energy projects tend to be from more privileged socioeconomic groups. Even when people who have previously been underrepresented are included in decision-making processes, that inclusion doesn't automatically erase power imbalances, and many people may still end up being left out.
On the other hand, when community energy projects are designed for inclusivity and accessibility, there is a better chance that projects will be truly democratic.
For example, Repowering's goal "is to ensure urban and disadvantaged communities can benefit from and participate in a clean and smart energy system," says Goudouneix. It fosters inclusivity in a number of ways, from clear messaging to the provision of support services and the use of inclusive engagement strategies, all of which make sure that the co-operatives it helps to set up are "grounded and connected to their local area." Residents are not only invited to invest in the co-ops—they are also encouraged to join with the same voting rights as investors for a nominal £1 fee.
A brighter future?
Unfortunately, despite the promise of energy democracy, there are significant barriers to its spread in England. Inconsistent, unclear and even hostile government policy makes it difficult for new community energy projects to get off the ground. As a result, there was an 80% decline in new community energy generation capacity between 2016 and 2018. And, in 2020, the 'Feed-in Tariff' scheme, which supported small and medium-scale electricity generators, was ended, replaced by a much more limited, market-led programme.
"The removal of the Feed-in Tariff and loss of tax reliefs for investors…have impacted massively on the sector," says Huggins. "The falling cost of solar panels is going some way to mitigate against that, but unless we find ways to secure long-term income for capital intensive projects this will continue to be a challenge."
Nevertheless, the future of community energy is bright.
"There are a number of big opportunities on the horizon," says Huggins, including growing support for action to tackle the climate emergency, and potential legal changes, such as the recently proposed Local Energy Bill. The Bill, if passed, would allow community energy projects to sell energy directly to consumers, a significant advantage over the existing restriction to non-domestic sites and large utility companies.
As the way energy is generated, stored and used changes in order to reach our net-zero targets, the way we interact with this essential part of our lives will be fundamentally altered.
"We need everyone to play their part," says Huggins, "and we believe community energy can play a key role."
---
Article written by Olivia Oldham (portfolio)
Photo by Andreas Gücklhorn on Unsplash
Please consider supporting our journalism: https://www.paypal.com/donate?hosted_button_id=FFQ2VNZ6Z6BYG